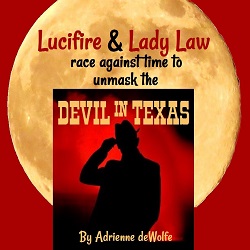 Today's sneak peek introduces Cass (aka "Lucifire," our hero) and his 17-year-old sidekick, Collie, from my soon-to-be-released Western Suspense novel, DEVIL IN TEXAS. I'm posting these weekly excerpts in honor of #1LineWed. 
Can't wait to meet Sadie? Check out our firecracker heroine before she becomes a Pinkerton Agent. In PISTOLS AND PETTICOATS,
you'll get to read how her star-crossed love affair with Cass started. And be sure to follow me on Twitter: @AdriennedeWolfe. 
Check out these character Worksheets for Novel Writers: Heroes, Villains, Sidekicks and More!
Devil in Texas
Book 1, Lady Law & the Gunslinger
Excerpt by Adrienne deWolfe

August 1883
Galveston, Texas
Life was about to get good.
That's what William "Cass" Cassidy thought as he craned back his blond head to gawk at the mostly naked mermaid, who protruded in all the right places from the brothel's sign. When he spied the seagull roosting so happily between the nymph's pumpkin-sized breasts, Cass's grin turned lopsided.
"You see that, Collie?" Cass reined in beside his 17-year-old sidekick and jerked his thumb in the direction of the mermaid. "I'm gonna get me one of those."
Collie shoved back his hat, spilling sun-bleached hair to his shoulders as he frowned up at the mermaid's trident. "Looks like another way to get ventilated, if you ask me."
Cass chuckled. Dismounting, he let his buckskin forge a place at the crowded hitching post. About 11 months ago, Collie had saved Cass's leg — and maybe his life — from the bite of a copperhead. Cass had rescued the Kentucky-born orphan from a life of small-time thievery in an even smaller Appalachian town. Somewhere between Louisville and Longview, they'd learned to tolerate each other. Sort of.
"I told you," Cass said, using his black Stetson to slap the trail dust from his all-black duds. "The Line is the safest place in Sin City — for a fella on the run."
"You yak about a lot of things," Collie grumbled, shooing his pet from his lap so he could swing from the saddle. "But what I really want to know is: why does a state senator want to meet you in a place like this?"
"'Cause Austin's crawling with Rangers."
"Well, that should have been your first clue."
"About what, Mary Sunshine?"
"That your old ranch boss is as crooked as a corkscrew."
"Says the kid who steals pies off of windowsills."
"Hey, a fella's gotta eat!" Collie protested, his lean, wolfish cheeks turning as red as his bandanna. "'Sides. I thought you wanted to be a Ranger, not piss one off."
"Depends on the Ranger."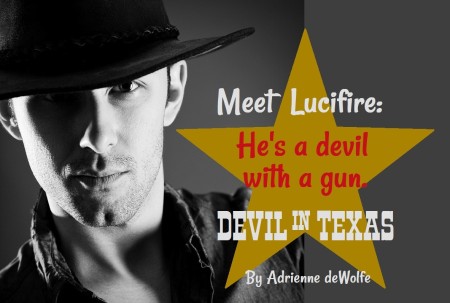 The truth was, Cass was hoping to strike a deal with his old ranch boss. Now that James "Cattle Baron" Westerfield chaired the Senate's Law Enforcement Committee, he had the political clout to fix Cass's troubles with the law — troubles that had started back home, in Pilot Grove, when Cass had learned the hard way that tin-stars took a dim view of Good Samaritans, who tried to clean up Texas with their guns.
"All right," he told Collie. "I'm going in."
"It's your funeral."
"And you're going in with me."
"No, thanks. I hear brain rot's contagious — Hey!"
Ignoring the growls of Collie's furry bodyguard, Cass dragged his sidekick through the fancy, nautical doors of the Satin Siren Casino and Saloon. His gunslinger's eyes only blinked once to adjust to the foyer's ambient lighting, which was relatively bright, even for a high-class house of sin.
Releasing Collie's arm, Cass halted on turquoise, shell-shaped tiles. As usual, his hands twitched above his .45s while his gaze hunted for threats. The gaming hall was crowded, despite the early hour. He had the fleeting impression of gilded frescos, crystal chandeliers, and liveried faro dealers.
Then he noticed the stage -– or rather, its aqua curtain. Craning back his head, he couldn't help but grin as he drank in every detail of that panorama of lust. The central focus was a galleon, marooned in the middle of a tropical lagoon.   An army of warrior mermaids was herding shackled swabbies into a coral cave, littered with treasure chests. The captives didn't look all that alarmed by the dastardly things the Mermaid Queen was doing to their compadres. Who would have guessed fishtails could be used in such imaginative ways?
Suddenly, a hulking bully with anchor tattoos appeared and blocked Cass's educational view.
"What the hell is that?" the bouncer growled, fixing his good eyeball — the one without the patch — on the whiskered tub of lard at Collie's feet.
The boy bristled.  He'd never taken kindly to authority.  "Did ya go blind in both eyes? That's a coon, Blackbeard."
Cass coughed into his fist, mostly to hide his amusement. "Howdy, pard," he greeted the pirate. "Don't mind Coon Collie, here. Kentucky dumbass asylums don't get much sun. Our Texas drought must've fried his brain."
Blackbeard sneered. He had only half his teeth, and most of them were chipped. "Coons ain't allowed. No dumbasses, neither."
"Then who let you in?" Collie fired back.
Read more sneak peeks from DEVIL IN TEXAS in this blog's Novel Ideas archive.
Read more adventures with Cass: 
Want to Build an Audience for your Work-in-Progress?
Participate in #1lineWed on Twitter!
Writers from all stages of their careers come together on Wednesdays to Tweet an excerpt from their work-in-progress.  This ongoing event has weekly themes (no buy links, please!) and is sponsored by the Kiss of Death Chapter of Romance Writers of America.  Follow @RWAKissofDeath to learn more about each week's theme before you post. Feel free to retweet, favorite, and comment on your favorite Tweets.
Check out these Character Worksheets for Novel Writers: Heroes, Villains, Sidekicks and More!  

Warm regards,
Adrienne deWolfe