Want to Become a Romance Author?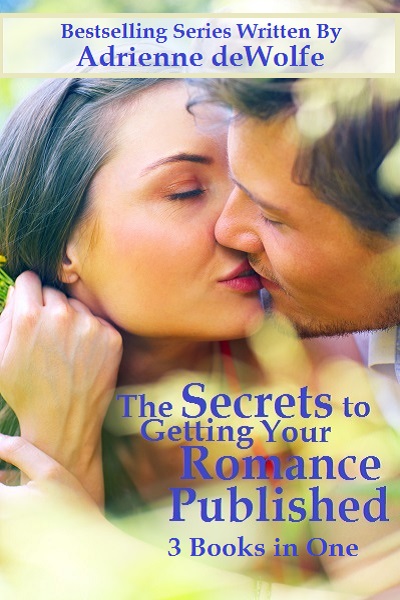 Buy all 3 e-Books
Save 18%
$14.99 USD
(3 book download available only in pdf; Individual books available for Kindle, Nook, iPad, and in pdf)
Romance is the Empress of the
Consumer Fiction Market: 
$1.368 billion in Annual Sales
Romance remains the Empress of the consumer fiction market, accounting for $1.368 billion in annual sales, or 14.3% of all mass market paperbacks sold in the U.S., according to Romance Writers of America's website. 
The publisher, Harlequin Romance, sells 4 books per second, half of them internationally. In the United Kingdom, 20 percent of all fiction sold are romance novels. In France, 12 million romance novels are sold each year.  In 2008, 74.8 million people around the world read an English-translation Romance novel.* 
---
Want to Become a Bestselling Author?
Romance Consistently Dominates the Charts!
Year after year, Romance novels dominate the bestseller lists of the New York Times, USA Today, and Publishers Weekly.  If you're an aspiring author who wants to break into the fiction market, genre Romance is a good place to start.
~ What type of reader gives Romance novels their sales edge over the Mystery and Fantasy genres?
~ What plot elements keep the loyal Romance reader turning pages?
~ How do fiction writers break into the vast and booming Romance novel market?
The answers to these questions may surprise you in The Secrets to Getting Your Romance Novel Published. 
---
Learn to Write Romance Novels 
with the Help of an Award-Winning Published Author
The Secrets to Getting Your Romance Novels Published gives you the insider knowledge you need to write Romance novels that sell.  Written by #1 Amazon Bestseller, Adrienne deWolfe, a Romance writing instructor and winner of the Best Historical Romance of the Year, the three e-books in the e-series can each be purchased separately or as a set. 
---
Secrets to Getting Your Romance Novel Published
Book I:
      How to Write Wildly Popular Romances
Featuring the Genre's 14 Bestselling Storylines and 8 Plot Taboos
Book II:   
How to Write Romance Heroes with Sex Appeal
Featuring 50 Ways to Make Your Hero Lovable  
Book III:
How to Write Sensual Love Scenes for Your Romance Novel
Featuring Excerpts from Bestselling, Award-Winning Romances
---
Buy all 3 e-Books
Save 18%
$14.99 USD
(3 book download available only in pdf; Individual books available for Kindle, Nook, iPad, and in pdf)
 * The statistics in this paragraph were reported by Wikipedia, at http://en.wikipedia.org/wiki/Romance_novel