Novel Writing Coach: 
Story Critiques & Mentoring for Publication
Two of Adrienne deWolfe's Indie writing students have soared up the charts to rank #1 on Amazon Bestseller Lists.  Are you ready to succeed?
"Thank you, Adrienne! You must have worked very hard on this (critique and homework plan!) I am very pleased. This is so exciting, exactly what I was looking for. And with the extra (character and) plotting help, I should be making improvements shortly! ~ Sharron Tan
Adrienne can speed you toward your goals. In addition to writing #1 bestselling novels that have won numerous reviewer and reader awards, Adrienne has taught fiction writing courses at a Texas college in Austin.  She understands the business of writing books for publication. She developed her Mentorship Program to help you, the aspiring novelist, when you are:
~ Tired of contradictory story critiques that leave you confused about how to write a fiction book that sells.
~ Ready to roll up your sleeves, finish writing your book, and market your fiction proposal to literary agents and book editors.
~ Looking for advice about how to become an author, how to win concessions from book editors, how to market your published novel, how to determine when to write a cross-over novel, and how to plan a successful career writing books. 
Romance Writers: Story Help Just for You!
Review the Current Rate Sheet for Fiction Story Critiques and Book Coaching Services (pdf)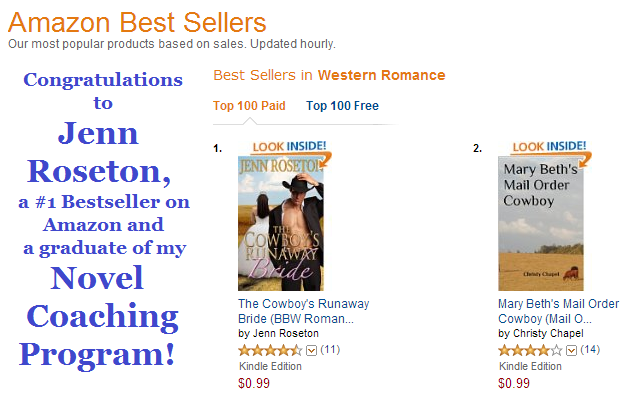 "A wonderful author, speaker, and teacher, Adrienne's comments encouraged and helped me focus on the technical aspects as a beginning writer without becoming overwhelmed." ~ Tambra Nichole Kendall, Published Author & Writing Teacher 

  
Learn How to Become an Author Who Sells
For more than a decade, Adrienne deWolfe has been a book writing coach for genre fiction (Romance, Mystery, Fantasy, Science Fiction, Thriller, and Westerns).  For three years, she taught the 8-week course, How to Write Novels that Sell (and its popular 8-week spin-off,  Novel Writing Blitz)  at a college in her hometown.  Adrienne was approached to create the curriculum for these two courses because students at that college had grown frustrated with creative writing classes that weren't adequately preparing genre fiction writers to sell a full-length book manuscript to a New York publisher.
Today, Adrienne combines her experience as award-winning novelist, book writing coach, internet marketer, publicist, and college instructor to help fiction writers advance their skills sufficiently to land a literary agent, win industry awards, and write books that sell.  
Review the Current Rate Sheet for Fiction Story Critiques and Book Coaching Services (pdf)
Philosophical Approach as a Book Writing Coach
As a book writing coach, Adrienne deWolfe maintains a positive, eye-on-the-goal focus for fiction writers, drawing heavily upon the teachings of Attitudinal Healing International.  Adrienne is certified as both a peer counselor and group facilitator of the Attitudinal Healing program, which was created by California psychiatrist, Gerald Jampolsky, M.D., and is based on A Course in Miracles.  
"In my fiction writing, Adrienne pinpointed weak areas quickly and offered excellent suggestions for improvement, which helped me get my first publication credit in an anthology of short stories.  Adrienne is a wonderful, inspiring writing coach and teacher."
~ Urania Fung, English Professor, Tarrant County College (Texas)
Simple, universal, and powerful, the 12 principles of Attitudinal Healing are inspiring, life-changing tools.  They can be applied to daily situations to help fiction writers release negative, worrisome thoughts, thereby deepening an individual's awareness of the immense power of attitude -- how it creates experience and how it impacts personal relationships. 
Adrienne has successfully applied the principles of Attitudinal Healing  to mentor fiction writers through all manner of personal and professional challenges, including creative writing blocks, money shortfalls, editorial rejection, the cancellation of a fiction line, and career stagnation.  By applying the principles of Attitudinal Healing to help her book writing students, Adrienne deWolfe mentors fiction writers in a supportive environment so that they can:
Develop novel ideas

Improve fiction writing skills

Deepen their creativity

Set achievable goals while writing books

Balance book writing time with other professional or personal obligations

Build faith in fiction writing talent, and ultimately

Achieve publication
"Thanks for your presence in my life and your constant encouragement and belief in me! It means sooo much and is soooo helpful!!!! ~ Laura Wilson
How do I apply for your story critiques and private coaching?
I accept a limited number of new fiction writers for my story critiques and private coaching each month. If you would like to be mentored, please complete the fiction coaching application and email it to me, along with the first 10 pages of your manuscript (as described in the application.) Please allow 10 business days for me to review your documents. I shall notify you by email regarding the next step.
Review the Current Rate Sheet for Fiction Story Critiques and Book Coaching Services (pdf)