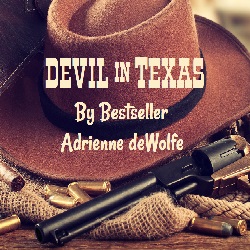 Follow the spine-tingling exploits of Sadie (our Lady Pinkerton) and Cass (her outlaw lover) as they race against time to unmask the DEVIL IN TEXAS! In honor of #1LineWed, I'll post a new excerpt each Wednesday from my soon-to-be-released novel, which launches my upcoming Romantic Suspense series, Lady Law & the Gunslinger, set in the Wild West.
Can't wait for your next Cass and Sadie fix? Meet our star-crossed lovers in PISTOLS AND PETTICOATS,
which features a prequel novella.  And be sure to follow me on Twitter: @AdriennedeWolfe. 
Check out these character Worksheets for Novel Writers: Heroes, Villains, Sidekicks and More!
Devil in Texas
Book 1, Lady Law & the Gunslinger
Excerpt by Adrienne deWolfe

August 1883
Galveston, Texas
Satin Siren Casino and Saloon
Relieved to duck into her dressing room, Sadie didn't waste any time kicking off her shoes and stripping off her fishtail skirt.  Quick costume changes were a requisite skill for a stage performer.  The orchestra had launched into a rousing version of The Drunken Sailor by the time she'd finished strapping her holster to her thigh.  She could feel the pulse of the music through her stockings. 
But the pounding of boots and tankards in the saloon, below, was accompanied by a fresh gust of goosebumps, this time down her spine.
Now what?
With the .32 gripped expertly in her fist, she looked beneath the draped vanity.  She wrenched open the doors of her stately, Louis XIV wardrobe.  She poked the bombazine draperies that rippled from the sea breeze that blew through her window.  That's when she spied a flash of light, hurtling out of an oleander bush near the building's foundation.
It all happened so fast.
One moment, she was peering out her window; the next moment, a smoking cylinder crashed open at her feet.  Flames belched from the shattered crockery.  The curtains ignited.  The carpet caught fire. She stumbled backwards, choking on fumes.
Greek fire!  Water would be useless.

Her mind whirred into action. She wrenched a flimsy night wrapper from her wardrobe and stomped on boots.  She planned to sound a general alarm.  But when she reached her door, it wouldn't budge.
Frantic, she rattled.  She banged.  She screamed.  Her efforts were futile.  Someone had taken the key, locking the door from the outside. 
Someone wanted her dead!
Panic gnawed at her reason.  Urine.  Urine would buy her time. 
She lunged for the sloshing bed pan and tossed its contents on the carpet, saturating the fibers between her and the racing wall of chemically-induced fire.  She figured she had little more than two minutes to rip out the false back of her wardrobe and grab the box with her lock pick before her protective little barrier of urine was overcome.
Pinkertons prepare for assassination attempts.  The words from her Field Agent Manual pounded in her head.
Ignoring the sparks that showered her arms, she wrenched aside the few gowns hanging in her wardrobe and ripped out the loosely nailed backboard.  Frenzied groping located the hole she'd smashed into the plaster. She stuffed her badge, cash, ammo, and train ticket into trouser pockets and grabbed a hat, scarf, and duster.  She knew when she got to the other side of the door -– and hopefully, the seawall -– she mustn't be recognized.  Otherwise, her brush with death could get a whole lot closer.
Gritting her teeth, she ignored the flames that roared ever closer.  Perspiration made lock-picking tedious.  Again and again, her slippery fingers lost their grip on the widdy, and she wasted precious seconds, coughing from the smoke that burned her sinuses and stung her eyes.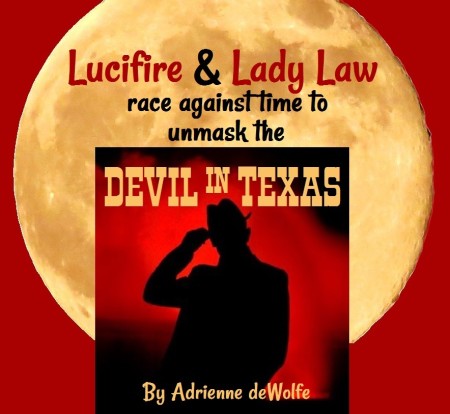 Finally, the mechanism yielded.  Nearly sobbing with relief, she wrenched open the door. A scene of mass hysteria greeted her. Shrieking whores, half-dressed Johns, and cursing waiters jostled each other, pushing and gouging in their efforts to escape the floor.  Both stairwells were ablaze.  Apparently, the murderer hadn't wanted any witnesses to survive.
Dragging the scarf over her face, she ducked into a street-side bedroom. She knew a sturdy climbing tree butted against its casement.  She'd cased every blessed inch of the casino to locate the best escape routes.
Pinkertons can't be too careful, the manual had instructed.
Ripping her burn-blistered palm, she shimmied down the trunk and stumbled into the shadows even as the first of the Johns jumped out the window and crashed into the oleander bushes.
"Sadie!  Has anyone seen Sadie?"
It was Cass's voice.  She stiffened, recognizing her ex-lover's pale gold hair in the casino's milling refugees.  He was turning his head every which way, shouting her name, searching the faces of the beerjerkers -- and presenting a whole new problem:
Her blown cover.
Read more sneak peeks from DEVIL IN TEXAS in the Novel Ideas archive.
Read more adventures with Cass & Sadie in PISTOLS AND PETTICOATS: 
Want to Build an Audience for your Work-in-Progress?
Participate in #1lineWed on Twitter!
Writers from all stages of their careers come together on Wednesdays to Tweet an excerpt from their work-in-progress.  This ongoing event has weekly themes (no buy links, please!) and is sponsored by the Kiss of Death Chapter of Romance Writers of America.  Follow @RWAKissofDeath to learn more about each week's theme before you post. Feel free to retweet, favorite, and comment on your favorite Tweets.
Check out these Character Worksheets for Novel Writers: Heroes, Villains, Sidekicks and More!  

Warm regards,
Adrienne deWolfe