Not only is Cass (aka "Lucifire") legendary as a quickdraw artist, he's celebrated as a trick shooter. In SEDUCED BY AN ANGEL
, he saves his best friend from a noose by putting a bullet through a lynching rope. In the PISTOLS AND PETTICOATS
 anthology, he entertains bettors by shooting an apple off his sidekick's head -- while aiming over a shoulder.
Upping the ante for Cass's skills in book after book has become quite the character-writing challenge! Today's sneak peek showcases another of his trick shots. This scene occurs in Chapter 3 of DEVIL IN TEXAS, Book 1 of my soon-to-be-released Romantic Suspense series, LADY LAW & THE GUNSLINGER. I'm posting these weekly excerpts in honor of #1LineWed. 
Can't wait to meet "Lady Law" (aka Sadie?) Check out PISTOLS AND PETTICOATS,
where you'll read how Cass and Sadie began their star-crossed love affair. And be sure to follow me on Twitter: @AdriennedeWolfe. 
Check out these character Worksheets for Novel Writers: Heroes, Villains, Sidekicks and More!
Devil in Texas
Book 1, Lady Law & the Gunslinger
Excerpt by Adrienne deWolfe
#1LineWed Theme:  Coffee or Tea

September 1883
Burnet County, Texas
"Good God. Is that gun loaded?"
"Who wants to know?" Cass growled, but the question was rhetorical. About a minute before he'd heard a mincing stride crunch gravel on the drive, a morning breeze had blown the scent of licorice hair tonic through the open doors of the carriage house.
"You know very well it's Pendleton!" snapped Baron's secretary.
Cass gritted his teeth. Pendleton Prouse was the last man he wanted to deal with while sober. Pendleton was a fussy little man, who preferred bowties to bolos and spats to spurs. He rarely ventured into the sun, as his milky complexion could attest. Perhaps because he huddled over Baron's ledgers from sunrise to sunset, or perhaps because Baron paid him better than all his cowpokes combined, Pendleton thought himself exceedingly important.
"I demand an explanation!"
"All right." Cass didn't bother to turn. He was too busy focusing on his task. "I'm juggling."
"I can see that!"
"Then why'd you ask?"
Wisecracks. Hair-raising risks. Death-defying feats. These were Cass's salvation. Without them, he would have lost his mind –- and not just because life as a regulator, with no bushwhackers to ventilate, was insanely boring. During the quieter moments on Baron's ranch, when Cass was watching the cattle graze or listening to a harmonica croon, memories of the brothel fire would inevitably creep in.
To distract himself from his latest bout of guilt, he'd started juggling an apple, a tequila bottle, and a .45. But he knew this reckless entertainment wouldn't spare him for long. His mind couldn't erase how he'd failed to rescue Sadie.
"Mister Cassidy!"
Cass struggled with his self-loathing. "Yeah, Mr. Prouse?"
Pendleton was using the door as a body shield and watching in morbid fascination as Cass juggled. "That is quite enough of your hooliganism."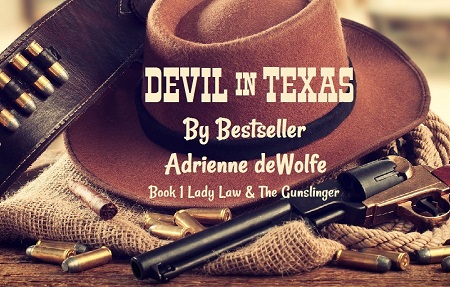 "Naw." Cass pasted on a smile. Even Pendleton didn't deserve to tangle with the demon lurking inside him today. "I'm just getting started." He swiped the apple from the air, took a bite, then tossed it back toward the rafters. "You got any peanut butter, Pendleton?" he mumbled between chomps. "Apples go better with peanut butter. At least, Collie's coon thinks so."
Collie snickered somewhere near the tack room. Cass could hear the kid buckling a harness onto Mrs. Westerfield's mare. Pendleton was scheduled to accompany her to the suffragette meeting, which was fitting, since tea-sipping would be part of the program. In the eight years that Cass had known Pendleton, Cass had never seen him drink anything harder than jamoka.
"Save your sass for the good citizens of the jury," Pendleton blustered. "Assuming you don't shoot your brains out before Baron can get you exonerated for killing that Ku Klux Klansman."
"You been listening at doors again, Pendleton?"
"How dare you!"
"Now don't get all pissy on your belly-wash diet," Cass drawled. "Everyone knows you peek through keyholes."
"I most certainly do not you . . . you troglodyte!"
"What's a troglodyte?" Collie called.
"Beats me," Cass said cheerfully.
"I'm not surprised." Pendleton's lip curled. "If it doesn't come with a 100-proof label, you haven't read it.
"Or drunk it," Cass agreed dryly.
Pendleton's ears turned red enough to smoke. "Holster that gun, Mr. Cassidy, before you blow your head off!"
"If I didn't know better, Penny, I'd think you were worried about me."
"He ain't." Collie said.
"Isn't," Pendleton corrected him testily.
"Quit being such a Nancy boy," Collie fired back. "The gun ain't even loaded. Right, Cass?"
"Reckon there's only one way to find out."
With the speed of a striking rattler, he snatched the .45 from the air, drilled a bullet through a knothole, spun the gun over his finger and holstered it. By comparison, the apple and tequila bottle dropped like molasses into his hands.
"Nope," he drawled, taking another bite of fruit. "No more beans in the wheel."
Read more sneak peeks of DEVIL IN TEXAS in this blog's Novel Ideas archive.
Read more adventures with Cass:
Want to Build an Audience for your Work-in-Progress?
Participate in #1lineWed on Twitter!
Writers from all stages of their careers come together on Wednesdays to Tweet an excerpt from their work-in-progress.  This ongoing event has weekly themes (no buy links, please!) and is sponsored by the Kiss of Death Chapter of Romance Writers of America.  Follow @RWAKissofDeath to learn more about each week's theme before you post. Feel free to retweet, favorite, and comment on your favorite Tweets.
Check out these Character Worksheets for Novel Writers: Heroes, Villains, Sidekicks and More!