Marriage Superstitions for
Scottish Historical Romance Writers
I confess, I'm a sucker for Celtic history and myth. So when fab Historical Romance author, B.J. Scott, agreed to write a post about the fascinating, Scottish superstitions that figure in her new Historical Romance novel, Highland Homecoming, I jumped like a duck on a junebug! (Yeah, that's Texas talk.  It slips out every now and then.  I like to think it's adorable . . . like cowboys.  And hunky Highlanders in kilts.)  But back to B.J.!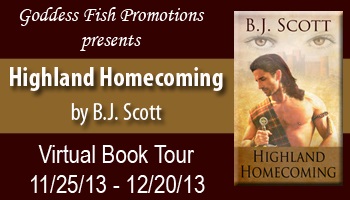 Win $50 for
Your Holiday
Shopping!
B.J. will be awarding a $50 Amazon Gift Card, Scottish shortbread cookies (Yum!), a can cooler and a mouse pad to a randomly drawn commenter during her book tour (residents of the US and Canada only, folks.  Sorry!)  The more you comment throughout B.J.'s book tour, the better your chance of winning.  And wouldn't $50 be a great little reward for all the last-minute holiday shopping you have planned? So be sure to follow B.J.'s tour and follow the instructions in the white, Rafflecopter box,  below.
Scottish Superstition and Myth
from Highland Homecoming
By B.J. Scott
Scotland is a country steeped in customs and superstitions. Many of the traditions revolved around marriage.
Hand-fasting, or trial marriages, were very common in Scotland up until the 16th Century.  A man and woman could choose to live together for year and a day without having their union sanctioned by the church.  If they remained happy at the end of the trial period, they often remained together for life. If not, they were free to separate and to find another partner.
If a child was born during the year of trial, it was raised by the father. The child was not treated as illegitimate, coming next in line after his lawful heirs.
Hand-fasting was considered socially unacceptable during the Scottish Protestant Reformer and they went to great lengths to repress it.  In 1562, the Kirk-Session of Aberdeen decreed that all hand-fasted persons must be married by a clergyman.
Marriage by declaration was also considered legal in early Scotland. A man and woman could declare themselves married before witnesses and the union was binding.
Hand-fasting and marriage by declaration are seen in book one of the Fraser Brother Trilogy, Highland Legacy.
Children were often betrothed at birth
and did not meet their intended
until the wedding.
Arranged marriage was also very common among the nobility and used as a means to secure alliances or to benefit the clan. Love was not a factor in the decision and often children were betrothed at birth and did not meet their intended until the wedding. Women were not considered persons under the law until well into the twentieth century and it was no uncommon for the daughter of a laird to be promised in marriage to a man she did not know or love if the union would benefit the clan in some way.
Women were not considered
"persons" under the law.
This is the case in the third book of the trilogy, Highland Homecoming, where the heroine is returning to the Scottish mainland to marry a man chosen by her father, a man she has never met.
We also touch on the belief in mythical creatures in Highland Homecoming and the second book in the series, Highland Quest. When Alasdair discovers an unconscious lass washed up on the beach in book 3, he momentarily wonders if she might be a Selkie. Sailors were rumored to go in search of seals who shed their skin and transform into beautiful women. They would hid their pelt so they could not return to the sea and take them home to be wives and mothers. But if she found her pelt, she could return to her ocean home, leaving behind broken, desolate men.
The Shellycoat haunted rivers.
This Scottish Bogey Man rattled
when he moved because
he was covered with shells.
They also believed in brownies, good natured brown elves or household goblins and sidhes, the Gaelic name for fairies, known to steal babies and leave changelings in their place. They believed in Shellycoat - a Scottish bogeyman who haunted the rivers and streams. He was covered with shells, which rattle when he moves. Black Donald - the devil who take on many disguises, but cannot hide his cloven feet. Monster of Loch Ness. First seen by St Columba in 565 a.d. Witches, sirens, banshees, the gift of second sight, some of which we see in Book two, Highland Quest, played a big role in Highland beliefs.
Whatever you do:  
NEVER take a pig on a fishing boat!
According to Highland superstition, it is bad luck to:
Have a black cat in any room where a wake is taking place.

Lay a baby down for its first sleep in a new cot.

See a funeral procession on the way to your wedding.

See a pig on the way to your wedding.

Take pigs on fishing boats.

Cut a young babies' nails with scissors as it will make them dishonest in later life.

Cross two knifes on a table.

Be "first-footed" on Hogmanay (New Year) by a flat-footed or a fair-headed person. This is the first visitor and traditionally they bring a coin for wealth, coal or wood for warmth, whisky, shortbread and black bun(fruit cake) so the family will not see hunger in the coming year.

It is good luck to

Have a rowan tree outside your house as it helps keep witches away.

Place silver in a new born baby's hand as it will bring great wealth to them in later life.

Touch iron if you see or even hear evil.

If you are a bride, to put a silver coin in your shoe.

Wear a sprig of white heather.
Highland Homecoming
By B.J. Scott
Book Description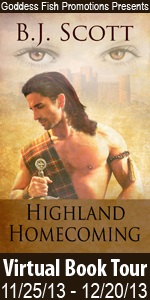 The last thing Alasdair Fraser expects to find on an isolated beach in Northern Scotland is a beautiful, unconscious lass. Unable to turn his back on someone in need, he delays his journey and tends to her injuries–an act that has him questioning his destiny and his plans to rejoin the fight for Scotland's independence.
Will he drop the shield that guards his heart or will the secrets she fails to reveal and his own stubbornness keep them apart forever?
Highland Homecoming
Chapter Excerpt
Northern Coast of Scotland
Summer 1308
Hooves pounded against rocks, surf, and sand as Alasdair Fraser pushed his mount beyond reasonable limits. Few things rivaled the thrill and exhilarating rush of mastering the powerful destrier between his thighs, controlling the magnificent beast with reins and will. The wind whipped through unbound hair and the tangy scent of the salty sea air filled Alasdair's nostrils.
He'd ridden hard all afternoon, hoping to reach the stronghold of his longtime friend, Jayden Sinclair. But the sun had slipped below the horizon, the twilight sky ablaze with orange, red, and purple hues. Darkness would soon be upon him and he'd be forced to make camp for the night. He licked his parched lips and his stomach rumbled. Many hours had passed since he'd last eaten, but a hot meal and a tankard of ale would have to wait. Water, oatcakes, and a bit of dried venison would suffice until he reached his destination.
He dug in his heels, and the steed surged forward. The more distance they covered before nightfall, the shorter the journey would be on the morrow. But as they rounded a bend in the shoreline, Odin faltered, reared up on his hind legs, then began to dance nervously from side-to-side. The battle-hardened warhorse didn't spook easily so Alasdair took heed of the animal's uneasiness.
With one hand resting on the hilt of his sword, the other fisting the reins, he carefully surveyed the immediate area. Nothing appeared out of the ordinary, yet the niggling of trepidation gnawing at his gut led him to believe there was something amiss. He nudged the horse's flank and the pair advanced with caution.
They'd only traveled a short distance up the beach when the sight of something a few yards ahead at the water's edge brought them to an abrupt halt. With his heart hammering in his chest, Alasdair cupped his hand over his brow and narrowed his eyes, trying to get a better look. The image came into focus and he could make out the unmistakable outline of a person sprawled out on the shore.
"What is it, Odin? Or, should I say, who is it?"
While this could be someone in need, it might also be a trap, an enemy or bandit lying in wait. Without hesitation, Alasdair slid from the saddle, pulled a claymore from the baldric slung on his back, and raced down the beach on foot. Stopping a few feet away, he sucked in a sharp breath.
"Mo chreach!"
He sheathed his weapon and took a step closer. A young woman, wearing nothing more than a thin nightrail, lay motionless in the sand, the waves of the incoming tide lapping at her bare feet.
About B.J. Scott
With a passion for historical romance, history in general, and anything Celtic, B.J. always has an exciting work in progress. Each story offers a blend of romance, adventure, suspense, and, where appropriate, a dab of comic relief. Carefully researched historical facts are woven into each manuscript, providing a backdrop from which steamy romance, gripping plots, and vivid characters—dashing alpha heroes and resourceful, beguiling heroines you can't help but admire—spring to life. A member of RWA, World Romance Writers, Celtic Hearts Romance Writers, and Savvy Authors, B.J. also writes contemporary, paranormal, time travel, and romantic suspense.
C.S. Lewis first captivated B. J.'s imagination in the fourth grade, and her desire to write sprang from there. Following a career in nursing and child and youth work, B.J. married her knight-in-shining-armor, and he whisked her away to his castle by the sea. In reality, they share their century-old home in a small Canadian town on the shore of Lake Erie with three dogs and a cat. When she is not working at her childcare job, on her small business, or writing, you will find her reading, camping, or antique hunting.
Follow B.J. Scott
Purchase B.J.'s
Fraser Brother Trilogy
Highland Homecoming (Book 3)
Highland Quest (Book 2)
Highland Legacy (Book 1)