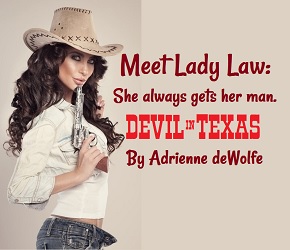 Today's sneak peek showcases some of Lady Law's special talents. Better known as Sadie, Lady Law frequently calls upon these skills as an undercover Pinkerton in my soon-to-be-released Romantic Suspense, DEVIL IN TEXAS. I'm posting these weekly excerpts in honor of #1LineWed. 
Can't wait to meet the Gunslinger (aka Cass?) Check out PISTOLS AND PETTICOATS,
 where you'll read how Cass and Sadie began their star-crossed love affair. And be sure to follow me on Twitter: @AdriennedeWolfe. 
Check out these character Worksheets for Novel Writers: Heroes, Villains, Sidekicks and More!
Devil in Texas
Book 1, Lady Law & the Gunslinger
Excerpt by Adrienne deWolfe

October 1883
Lampasas, Texas
From the outside, Wilhelmine "Wilma" LeBeau's brothel looked like any other charming, limestone cottage on Third Street. The three-story construction had a wrought iron gate, forest-green shutters, and a sprawling porch, whose pillars were festooned with drought-resistant climbers, like blue plumbago and sunny Lady Banks Roses. Thanks to the season, Wilma's porch also had enough leering jack-o-lanterns to qualify as a pumpkin patch.
Sadie rang the bell. Less than a minute passed before a railroad spike in black broadcloth opened the door.
"Bonjour, m'sieu," Cottonmouth greeted with aplomb. The twinkle in the Cajun's dark eyes betrayed his mirth to see her swimming in a brown linen sack suit. "And whom shall I tell Madame has called this morning?"
Sadie bowed, sweeping off her bowler hat and furtively checking her chestnut-colored sideburns in the window. The damned whiskers were constantly threatening to peel off. "Dusty Dudman's my name; sodbusting's my game," she announced in her brashest hick accent. "Madam Wilma is expecting me for brunch."
Cotton's lips twitched. Occasionally, her disguises fooled the big, bald lug. But not this morning.
Of course, there were only so many ways she could hide brandy-colored irises without being redundant. Her eyes had been her bane ever since she'd joined the Agency. Pinkerton had feared they would prove a liability in the field. In fact, he'd rejected her agent application on that basis. If Rex hadn't interceded, vouching for her street smarts and her cool head under fire . . .
She shuddered to think what her life might be like today.
"C'est bon," Cotton said gamely. "I shall show you to the solarium."
She followed his daunting six-feet, ten-inches past the parlor, with its orange dust covers and black-cat pillows; through the conservatory, where a massive arrangement of golden chrysanthemums topped a baby grand piano; to a lush jungle of potted palms. Above the frond spears, in the fluttering shadows of breeze-blown awnings, Sadie could just make out a shock of pewter hair, as thick as any wolf's pelt.
Rexford Sterne rose from the table as she entered the room. A handsome man in a harsh, sun-chiseled way, the Texas Rangers' commander was lean, fit, and immaculately groomed in a suit of charcoal-colored pinstripes, complete with the obligatory Peacemaker and his beloved Justin boots.
Rex hiked a bristling eyebrow as she swaggered through the door. "You walk like a drunken sailor at sea."
"Nonsense," Wilma purred. "She walks like a cowpoke."
"I'm a sodbuster, for crying out loud!" 
Rex grunted. "Needs work."
Exasperated, Sadie elbowed Cotton, who was smirking because his twin brother, Gator, had schooled her for an hour in "the Cajun man strut."
"I suspect one must be born to the role," Wilma said dryly. "Tea?"
"Naw, jamoka. Black." Sadie plopped into a chair like she'd been raised in a barn. "How'd I do that time?"
Rex sighed, and she grinned. There was something so endearing about a man who took exception to lewd conduct in a woman.
Read more sneak peeks from DEVIL IN TEXAS in this blog's Novel Ideas archive.
Want to Build an Audience for your Work-in-Progress?
Participate in #1lineWed on Twitter!
Writers from all stages of their careers come together on Wednesdays to Tweet an excerpt from their work-in-progress.  This ongoing event has weekly themes (no buy links, please!) and is sponsored by the Kiss of Death Chapter of Romance Writers of America.  Follow @RWAKissofDeath to learn more about each week's theme before you post. Feel free to retweet, favorite, and comment on your favorite Tweets.
Check out these Character Worksheets for Novel Writers: Heroes, Villains, Sidekicks and More!  

Warm regards,
Adrienne deWolfe