How to Write Wildly Popular Romances
Featuring Descriptions of the 14 Bestselling Storylines in the Genre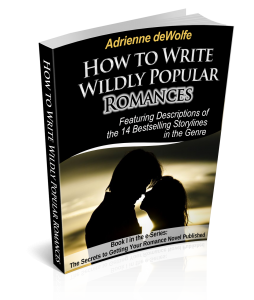 by Adrienne deWolfe
Book I in the E-Series:
The Secrets to Getting Your Romance Novel Published
$5.99 USD (pdf)
---
View Book Highlights & Table of Contents
Get Your eReader Copy Autographed
Learn about Other eBooks in This Series
Learn about Story Critiques and Mentoring for Romance Writers
Highlights and Table of Contents
Storylines that Sell: Even though Romance novels have evolved to keep pace with prevailing social views about love, marriage, and sexuality, market research has shown publishers that certain themes remain perennial favorites. Do you know the 14 most beloved story archetypes in the genre? Write one of these romantic themes, and you'll vastly improve your chances of getting your Romance novels published.
Storylines that Fail: The books that Romance readers buy today are determining the kinds of manuscripts that editors buy tomorrow. Do you know the eight story taboos that Romance readers don't want to read? Make the mistake of including one of these in your Romance novel, and a book editor is unlikely to buy your manuscript.
6 Plotting Pitfalls to Avoid: Knowledge of the Romance industry and the preferences of Romance readers will only get you so far. If you write an ending that fails to deliver what you promised in Chapter 1, then your Romance manuscript will be rejected by book editors. Learn to recognize the six plotting pitfalls that will make your publication dream go up in smoke.
Table of Contents
Relationship:  The Heart of a Romance Novel
What Exactly is a Romance Novel?
Category Romance Novels
Single Title Romance Novels
Romance Sub-Genres
How Does Romance Differ from Mainstream Fiction?
How Does Literary Fiction Differ from Romance Novels?
How Does Characterization Make a Difference?
Happy Endings Can Lead to Big Sales
Empress of the World Market
Romance is Easier to Sell
Great! But Where Do I Start?
Who Reads Romance Novels? 
Your Target Audience: Female, Well-Educated and Happily Married
Why Do Romance Novels Appeal to Women?
What Keeps Romance Readers Turning Pages?
What Do Romance Readers Want?
Give Your Readers Lovable Characters
The Hollywood Daze
Movie Plots as Classic Romance
Romantic Movies with a Twist
Avoid the 8 Taboo Plot Elements in Your Romance Novel
Plots that Sell Well in Romane Novels
Plot is Relationship

14 Classic Storylines from Romance Novels & the Silver Screen
Creating Plot from Character & Setting
Plotting Pitfalls:  6 Reasons why Romance Manuscripts are Rejected
Review:  10 Questions to Consider When Plotting Your Romance
Buy How to Write Wildly Popular Romances
$5.99 USD (pdf)
Buy all 3 Books in the Series
$14.99 USD (pdf)
---
Learn about the e-book, How to Write Romance Heroes with Sex Appeal, Book II in the series, The Secrets to Getting Your Romance Novel Published.
---
Learn about the e-book, How to Write Sensual Love Scenes, Book III in the series, The Secrets to Getting Your Romance Novel Published.
---
Learn about the Characterization Worksheets designed specifically for Romance Novels. 
---
Learn about Story Critiques and Mentoring by #1 bestselling Romance author, Adrienne deWolfe