How to Write Sensual Love Scenes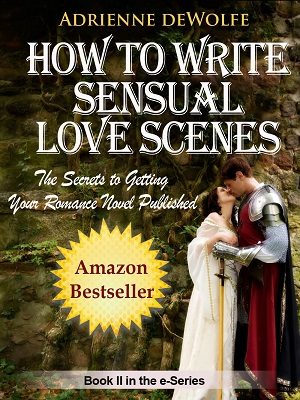 Book 3 in the Bestselling eSeries:
Secrets to Getting Your Romance Novel Published
Get Your eReader Copy Autographed
---
Putting Sizzle in Kiss and Love Scenes: Write a situation or language that turns off your target audience, and book editors will reject your Romance novel. Learn the editorial guidelines for Sweet Romance, Sensual Romance, and Erotica (the steamiest sub-genre in Romance).
Sexual Tension Keeps the Pages Turning:   How do you write a tender kiss? How do you write love scenes and heart-pounding seductions? If you plan to write Romance novels, you can't be squeamish about writing sexuality that moves readers emotionally. Master the suspense technique known as sexual tension, and you'll write Romance novels that sell.
The Bestseller's Secret for Writing Consummation Scenes: If you're writing Sensual or Erotic Romance, more than one consummation scene will be required by your editor. Learn a bestseller's secret for writing love scenes that keep Romance readers turning pages until the end of the book.
Love & Romance:   The Most Popular Themes in Literature
Sexual Tension:  Putting Sizzle in Your Prose
Sexual Tension as a Form of Suspense
Characterization is Key
Viewpoint is Vital
Avoid Distracting Subplots
Stupid Characters: A Sure Bet for Losing Readers
Unbelievable Plots: Another Reader Turn-Off
Create Mood through Pacing
Hugging, Touching, Kissing:  Writing Love Scenes
Taboos in Genre Romance
Emotional Intimacy is Key
The Archetypal Female Fantasy
Forbidden Desire Keeps the Pages Turning
Children and Pets as Diversions
Safe Sex in Love Scenes
Writing through Your Five Senses
Euphemistic Prose
Dialogue in Consummation Scenes
Humor and Sex
The Bestseller's Secret for Consummation Scenes
Published Excerpts
First Kiss with Analysis: Texas Outlaw by Adrienne deWolfe
First Consummation with Analysis: Texas Lover by Adrienne deWolfe
Morning After (abridged) with Analysis: Texas Lover by Adrienne deWolfe
Second Consummation with Analysis: Texas Outlaw by Adrienne deWolfe
Book Trailer: How to Write Sensual Love Scenes
See Book Highlights / Table of Contents
Buy How to Write Sensual Love Scenes
$5.99 (pdf)
---
Buy all 3 e-Books in the Series
$14.99 (pdf)