How to Write Romance Heroes with Sex Appeal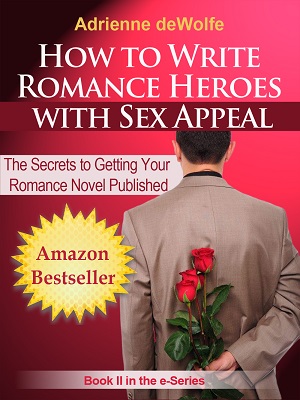 Book 2 in the Bestselling eSeries:
Secrets to Getting Your Romance Novel Published
---
Get Your eReader Copy Autographed
Coaching Program for Romance Writers 
---
How to Tell if You're Writing a Lover or Loser: Contemporary women want to read about men they can fall in love with. Every time a Romance reader buys a book, she indirectly casts her vote for her favorite hero. What kind of man keeps Romance readers sighing for more? The answers may surprise you, starting with the age-old debate over brains versus brawn.
Tips for Writing the Male Perspective: In fiction writing, the Male Voice is distinctly different than the Female Voice. If you want to write a sexy, lovable hero, he has to think like a man and sound like a man on the page. Learn how to write the male perspective for your Romance novels.
50 Ways to Give Your Hero Sex Appeal: So your Romance hero's good in bed? Big deal. Romance readers also want to know what kind of protector, provider, and partner this fictional man will be. To make your hero worthy of a happy ending, you need to give him a personality that makes modern-day readers fall in love with him. Get started with the 50 ideas in this e-book.
---
Romancing the Reader:  Know Your Genre
Lover or Loser:  What Makes a Male Protagonist a Hero
Why Perfect Men Make Boring Heroes
Why Brains are Sexier than Brawn
Romancing "Bad Boy" Heroes
Falling in Love with "Good Boy" Heroes
Alpha Heroes: Why They're Perennial Favorites
Beta Males: Not Just Sidekicks Anymore
How to Write the Male Perspective
Alphas at War: The Battle Between the Sexes
Sexual Tension through Characterization
Characterization Tips:  Ways to Make Your Hero Memorable
Goal, Motivation & Conflict: Keys to Creating an Appealing Hero
Make Heroes Larger than Life
How to Raise Your Reader's Temperature
50 Ways to Give Your Hero Sex Appeal
Hero "Sex Appeal" Quotient
Sex Appeal Review:  10 Questions to Ask When Writing Romance Heroes
Buy How to Write Romance Heroes with Sex Appeal
$5.99 USD (pdf)
Buy all 3 e-Books in the Series
$14.99 USD (pdf)