[box type="note" size="large" style="rounded"]This business feature was originally published in the magazine, Austin ETC. It provides insights into the "green building initiatives" practiced by Whole Foods, the City of Austin, Wilshire Homes, and other Austin businesses.[/box]
---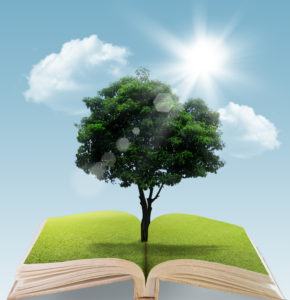 GREEN BUILDING: A HEALTHIER VISION FOR AUSTIN'S ENVIRONMENT
By Adrienne Sobolak deWolfe
Can we meet the needs of the present population without compromising the needs of future generations?
This question refers to quality of life and environmental sustainability, two areas in which concerned Austin businesses are serving as examples to the rest of the world.
Shellie Reott wanted to be an astronaut as a child, but decided to champion the environment instead. As owner of Earthly Ideas, she consults with businesses to help them incorporate green initiatives into their construction, relocation, and renovation projects. She ascribes to the seventh generation philosophy. In other words, she tries to consider how her business practices will affect children for seven generations to come.
Fortunately, she says, she's not alone in Austin.
"Austin business people care a lot about the environment. Becoming stewards of the earth isn't just a job to Austin businesses, it's a way of life," says Shellie. She's in a position to make comparisons, since she traveled extensively after receiving her undergraduate degree in aerospace engineering from Georgia Tech. "At Earthly Ideas, I try to lead by example."
Shellie's own turning point came when she first visited Austin and saw how environmentally conscious the community was. "I wanted to help make a difference, and I conceived of Earthly Ideas in 1992. I thought companies would want to be environmentally conscious, and that people would need help evaluating their systems and improving their efficiencies (in areas like lighting, heating, waste reduction, etc.).
"I learned that I couldn't market myself that way, though." Instead, she had to bank on her organizational and planning skills, and soft peddle green initiatives once a client hired her.
"Green building -- or sustainable building -- goes back to time-honored traditions that have largely been forgotten," she says. "In green building, we try to use indigenous materials, such as limestone, rather than man-made brick. A lot of sustainability ideas are common sense. They're practical, because they create efficiencies and make buildings more inhabitable for people. After all, you want buildings to be more habitable."
Shellie recently served as project manager to help Balcones Recycling construct its new paper processing facility in Farmers Branch. She notes with humor that Dallas is a "completely different animal" than Austin.
"I was working with good, salt-of-the-earth folks who were willing to try new things," she explains, "but the idea of green building was completely new to them."
Balcones Recycling is a tenant in its new facility. When Shellie sought approval to implement green initiatives from one of the owners, he said, "Well, we don't mind if you paint the walls green."
Of course, he was completely missing the point.
"A lot of my job involves education," Shellie says with a smile. "I have to strike a balance between advising businesses and not getting in their way."
Shellie accomplished this feat as Environmental Coordinator for the construction of Whole Foods Market, located at Sixth Street and North Lamar. Back in 1994, while managers were considering renovation, a work crew found asbestos in the walls.
"Whole Foods was very concerned about the health and safety of its employees," Shellie remembers, and the managers decided to move the corporate headquarters rather than risk that renovation would fail to eliminate the problem.
Karen Kohler, office manager of Whole Foods' corporate headquarters, inherited many of Shellie's innovations after construction had completed and Shellie had moved on. Now Karen works with Shellie's implementations on a daily basis.
"I can honestly say it's a pleasure working here," Karen says. "It feels very clean and inviting. I have not felt that the choices (made by Shellie, Whole Foods management, and the construction contractors) are resulting in greater costs, nor do I feel that productivity has decreased as a result."
Karen is in a position to know, since she supervises maintenance and personally interacts with the vendors who must install, repair, or clean everything on the property.
"Generally speaking, there still isn't a big demand for buying recycled and organic products," Karen says, even though many people with good intentions are recycling materials in their businesses and homes.
The problem is, recycling is a three-stage loop: collecting materials, remanufacturing them, and purchasing them. If consumers recycle, they need to buy recycled products too, or manufacturers will wind up with a surplus and, eventually, stop making recycled products altogether.
"Because the demand for recycled products is still low," Karen says, "Whole Foods determined to make a construction investment in recyclable materials (such as lumber and window hardware). We wanted to share our experience with other local businesses. Hopefully by spreading the process behind our success, other businesses will take notice. We would love to see the demand for recycled products go up, driving the retail costs down."
Whole Foods definitely walked its talk. It made numerous initiatives, including the recycled southern yellow pine that was shipped from demolished Gulf Coast warehouses to construct the corporate floor. The carpeting is natural wool fiber, and citrus-based solutions are used to clean them. All heating and air conditioning technology is energy-efficient and state-of-the-art. The original asphalt in the parking lot was replaced with concrete to reduce reflective heat, and the black-top has been turned into a coal-patching mix to repair ranch roads in Travis and Hays counties.
Even the hydraulic fluids in Whole Foods' elevators weren't overlooked: they're vegetable rather than oil-based.
In its corporate headquarters, Whole Foods took special care to incorporate skylights to reduce lighting costs and give every employee the psychological advantage of working in sun-lit offices. At the suggestion of employees, management has installed bicycle racks as an encouragement for employees who'd prefer not to drive to work. Karen says the racks are filled to overflowing, and she's investigating the possibility of installing more.
The City of Austin's Commercial Green Builder Program (CGBP) was instrumental in helping Whole Foods develop ideas and incorporate them. In addition to the workshops it hosts, CGBP makes available to local businesses a wealth of resources, including its 450-page The Sustainable Building Sourcebook, which it sells for $25. Thanks in part to the notoriety CGBP received as the only American program to receive an award at the Earth Summit in 1992, the sourcebook has sold throughout the world, including Japan, Hong Kong, and Europe.
"The general public knows us mostly from our work with home building," says Doug Seiter, Green Building Program Manager of the City of Austin's Planning, Environmental and Conservation Services Department. "We approach home building as a system and recognize the impacts housing has on the environment in areas such as energy and water consumption, building materials, and solid waste disposal."
Much of Doug's job also involves educating the community about responsible consumption of natural resources.
"Even though green building is part of a greater vision for a sustainable world, the issues at stake are much bigger than building. They include over-population and air quality related to the use of the automobile," Doug admits. "Frankly, we can't continue sustaining our quality of life indefinitely into the future if we continue using resources faster than we replenish them."
Doug says there are many examples of businesses throughout the Austin community that have taken leadership roles in green building. The National Wildflower Research Center, for instance, utilized site planning to minimize destruction of a sensitive ecological area. Freescale travels around the city educating consumers with its watershed demonstration, and Freescale also sponsors a green classroom at Becker Elementary. Wilshire Homes is another example of a corporation that has worked hand-in-hand with CGBP guidelines, incorporating energy-efficient air conditioning and non-toxic paints into model homes.
The average consumer can take steps, too.
"When you replace your carpet," Doug says, "consider investing in recycled fibers, which have little out-gassing (the release of volatile organic compounds). If you repaint, choose
spreads that have low or no VOCs."
For more information on steps that you can take to help Austin remain a healthy environment for you and your children, contact the Green Builder Program at 499-STAR (512-499-7827).