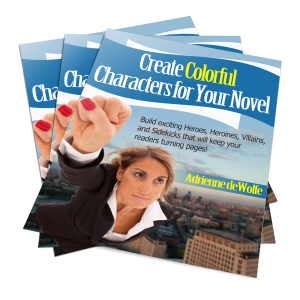 "Thank you for these character templates. They are awesome. I was using templates from a male author, and there is a huge difference in what (a female writer) would ask a hero. These will be immensely helpful."~ Sharron Tan
Learn how to write colorful characters for Romance, Mystery, Fantasy, Thriller, Science Fiction, YA, Western and Horror novels. 
Writing Romance? Special worksheets just for you!
When readers sit down with a Mystery, Thriller, Fantasy, Science Fiction, Western, or Horror novel, they don the skin of your characters.  Readers want to experience the highs and lows of adventure.  They want to experience Heroes and Heroines who are larger than life, who are inspirational, and who are overcoming great odds to win.   In short, readers want to live vicariously through the adventures of your characters.   
Included in this worksheet package:
4 Templates + 2 Bonus Offerings
(downloadable PDFs):
Create a Colorful Hero (27 pages)

Create a Colorful Heroine (31 pages)

Create a Colorful Villain (25 pages)

Create a Colorful Sidekick (24 pages)

Bonus Template:  Create a Colorful Cast of Extras (6 pages)

Bonus Article:  How to Write Men who Sound Like Men, and Women who Sound Like Women (5 pages)
(A second series for Romance novels is also available.)
$16.95 USD (downloadable PDFs)
Write a Book with Memorable Characters: 
Worksheets for Mystery, Thriller, Fantasy,
Sci Fi, Western and Horror Novels 
"If a ... character is not deeply and consistently
developed, the reader will not care (about your story).
~ Leslie Kellas Payne, Editor of Adult Fiction 
Source: The Portable Writers Conference, Edited by Stephen Blake Mettee, page 259
How do you write a book that readers can't put down?  The secret lies in creating complex characters.  Award-winning novelist and book writing coach, Adrienne deWolfe, originally developed the worksheet series, Create Colorful Characters for Your Novel, to help book writers of Mystery, Fantasy, Science Fiction, Thrillers, Westerns, and Horror develop Heroes, Heroines, Villains, and Sidekicks that would capture the hearts of readers and win book contracts from editors.  "If characterization matters so much to the reader," Adrienne explains, "characterization must matter even more to the writer."
"When you move readers emotionally, you sell books."
Literary Agent Ethan Ellenberg
Source: US News & World Report, Nov. 6, 1995
The genre fiction writer's biggest mistake when writing a book is to create perfect protagonists.  Readers can't relate to perfect (boring) Human beings.  They want memorable Human beings who can deliver emotional reads.  The Create Colorful Characters for Your Novel worksheets are designed to take the writer deep into the psyche of every Hero, Heroine, Villain, and Sidekick.  You'll learn what makes your characters tick, so you can translate that understanding into a page-turning read for enthusiasts of Mystery, Fantasy, Sci Fi, Western, Thriller, Western, and Horror novels. 
Peek Inside the Worksheets
$16.95 USD (downloadable PDFs)
Story Coaching: Learn to Write Novels with a Bestselling Author